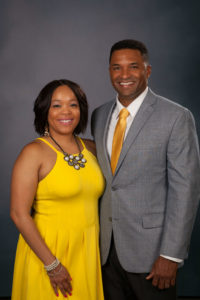 Dr. Del Smith has extensive management and leadership experience in healthcare, IT, higher education, and government. Since 2015, he has served as Dean of the College of Business & Public Affairs at Alabama A&M University.
Mrs. J. Renae Smith is a full-time Realtor at Keller Williams Realty. She has been licensed in the state of Alabama since 2009; and loves helping people realize their home ownership dreams. Prior to this, she traveled the country as a bank examiner for the Office of the Comptroller of the Currency (OCC).

Del is Co-Founder of Acclinate Genetics, a startup company located at Hudson Alpha Institute for Biotechnology.  He earned his Doctorate in Management at The University of Alabama. Del is a strong advocate for helping his local community and serves on the boards of The Huntsville Housing Authority, BizTech, and Urban Engine. Del enjoys traveling with his wife, playing golf, and reading.
J. Renae is on the roster of arbitrators for FINRA and is a candidate for certification as a Certified Fiduciary and Investment Risk Specialist (CFIRS). Her interests include painting, home décor, mental health advocacy and roaming the globe. J. Renae earned both her Bachelor of Science (Finance) and MBA (Strategy) at The University of Alabama in Tuscaloosa. It was there that she met her husband, Del, with whom she shares sons, Coby and Isaiah.
Del and J. Renae feel led to support the mission of HEALS.  They are honored to dance and raise money to help make healthcare more readily available for Huntsville's school children.