From happy smiles to a new outlook, HEALS gives underserved children the chance for a healthy life and a better future. Our work would not be possible without regular monthly gifts from our Friends of HEALS. 
Our Friends are very generous folks that are more than just kind, they're practical thinkers! They know that giving monthly allows us to spend less time fundraising and more time taking care of our patients. Becoming a Friend is the easiest, most efficient way to make a difference in the health of our children all year long!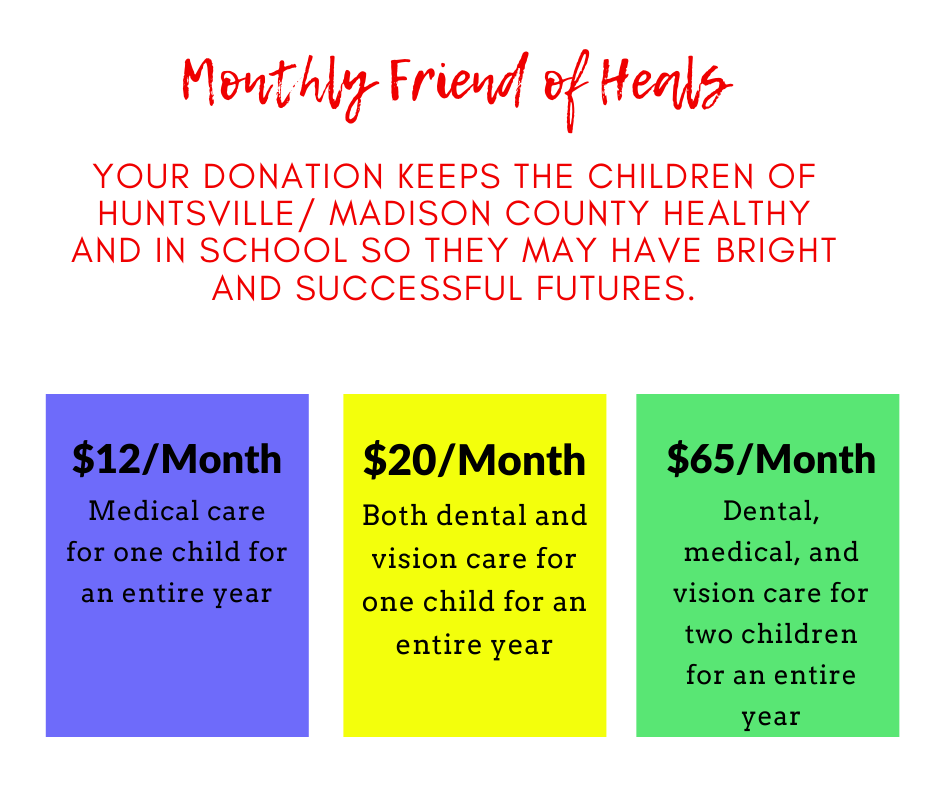 Dental Care
Dental hygiene education on brushing, flossing, and nutrition
Preventative care such as cleanings, e-rays, fluoride, sealants, and periodontal care
Restorative care such as fillings, root canals, extractions and crowns
Medical Care
Check-ups (EPSDTs), immunizations, acute and chronic care for illness and injury, lab work and prescription medications
Management for chronic illness — asthma, diabetes, sickle cell anemia and more
Onsite specialist care: ENT and Nutritional Counseling
Referral for other specialty care: Orthopedic, Neurology, Mental Health, etc.
Vision Care
Provide complete vision and eye health examinations 
Fitting for Medicaid glasses 
Your monthly gift provides children in Huntsville and Madison County with consistent, comprehensive, medical, dental, and optometry care in a warm, child-friendly setting. You are keeping our children out of the Emergency Room and in their schools, healthy and ready to learn!